Overview and Features
Advanced security verification with multiple automated techniques is possible
MUSHIGAGO is a dedicated device that can verify security risks in a fully automated manner by linking multiple automation technologies (AI and optimization technologies) with security verification technologies.
MUSHIKAGO can be used in a variety of system environments and network configurations (it is not necessary to give system or network information in advance).
It is also useful to reliably determine the impact, whether the system, service, or equipment is vulnerable, the effectiveness of the company's security software, and to investigate the impact after the system has been infiltrated.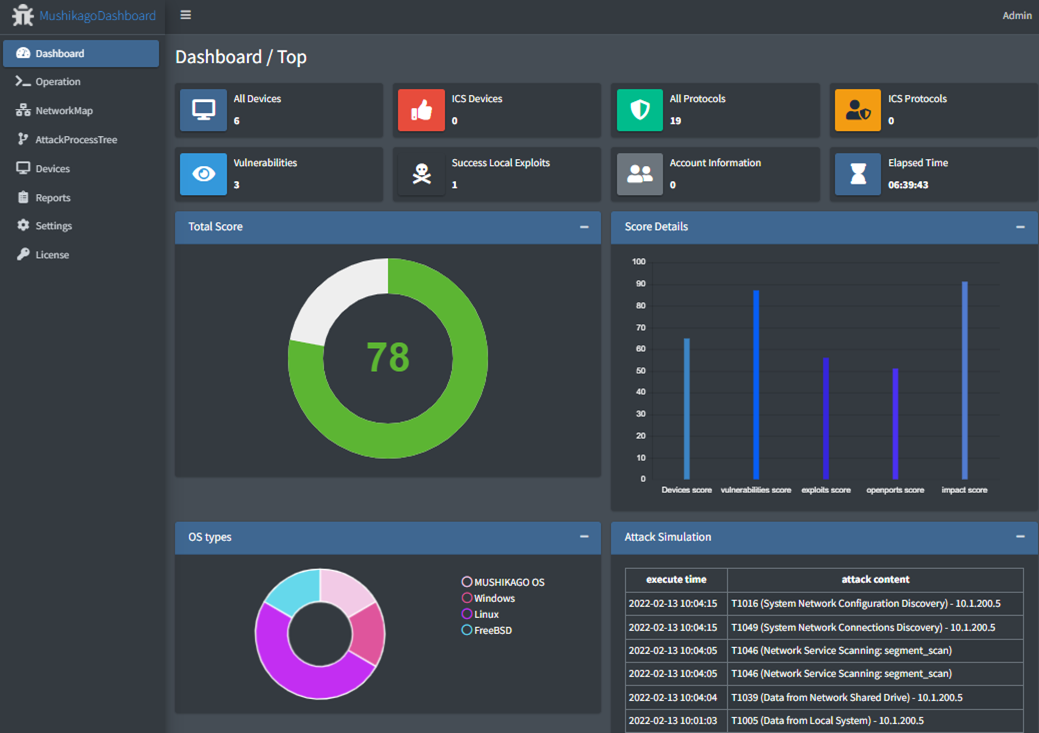 Available immediately upon picking it up
MUSHIKAGO is implemented as a dedicated device that you will actually want to hold in your hands, making it easy for anyone to use without complicated settings. The design is also very particular and incorporates a Japanese style.
Simply connect to the network of the system to be verified via a wired or wireless LAN to complete the preparation. Network settings can also be configured from a dedicated web screen (dashboard).
Once connected, the system can be easily operated from the dashboard.
Security verification results can also be viewed in real time from the dashboard and output as easy-to-understand reports, so system risks can be clearly visualized and understood.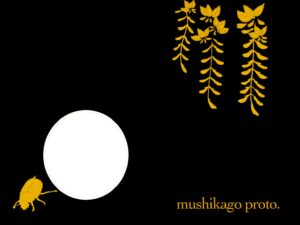 Support for IT and OT
MUSHIKAGO supports detection of devices used in information systems (IT systems) as well as industrial systems (ICS/OT systems) and industrial protocols (security verification functions for industrial systems will be supported in a future update). In addition, it can specify a system that exists remotely for verification, allowing for use from a remote location. In addition, the system is regularly updated to keep up with the latest cyber-attacks.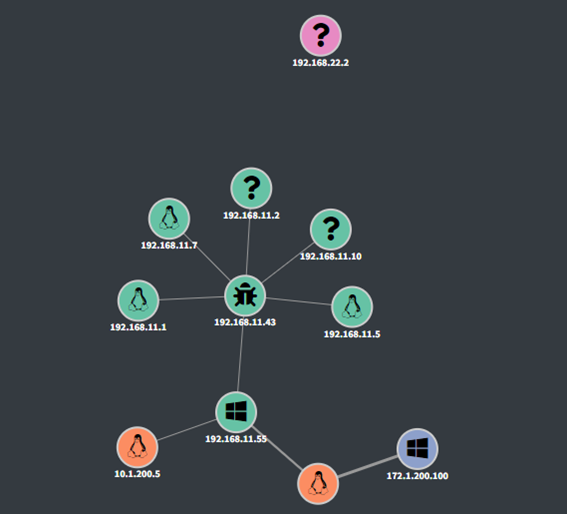 Provides details of the attacks conducted and the risks involved
MUSHIKAGO visualizes the content of the pseudo-cyber attacks conducted in accordance with the MITRE ATT&CK (currently v10). This provides a detailed view of what penetration tests were conducted and what attacks are robust/vulnerable from the attacker's perspective. In addition, MUSHIKAGO can visualize discovered terminal and network connection information, enabling the discovery of previously unnoticed terminals and network communications.
Translated with www.DeepL.com/Translator (free version)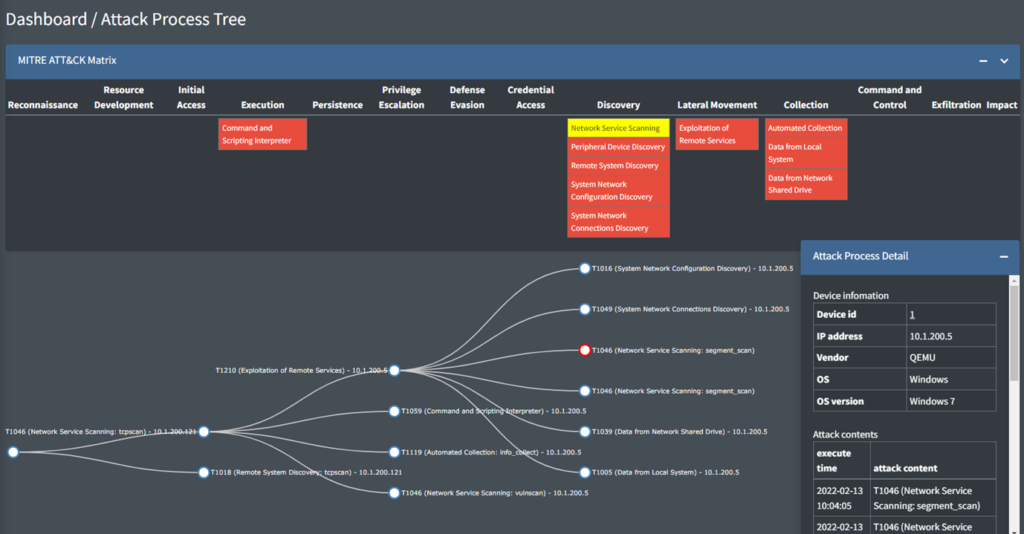 If you ever want to try MUSHIKAGO!
We can provide a free rental version of MUSHIKAGO (for a period of about 2 weeks), so if you are interested, please contact us using the inquiry form. We can also provide detailed product information materials, so please contact us.
MUSHIKAGO Usage Image and Operation Overview
Anyone can easily use it, just connect it to the network you want to verify!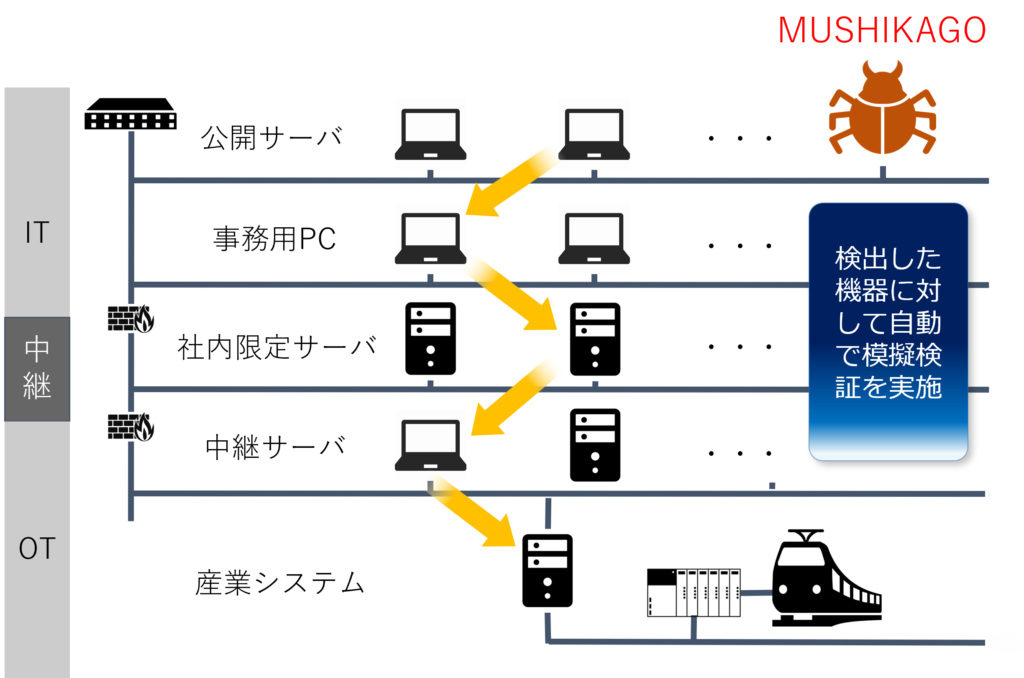 (1) Connect MUSHIKAGO to the network where the system to be verified exists (both wired LAN and wireless LAN are supported).
(2) Click the Start button from the dedicated MUSHIKAGO web page.
(3) MUSHIKAGO automatically detects devices and services in the network
(4) Perform advanced security verification testing on detected devices
(5) Access a dedicated Web screen to view a list of collected information, security verification details, discovered security risks, etc. as a report (can be viewed even during the verification process).
MUSHIKAGO Operation Description
MUSHIKAGO Series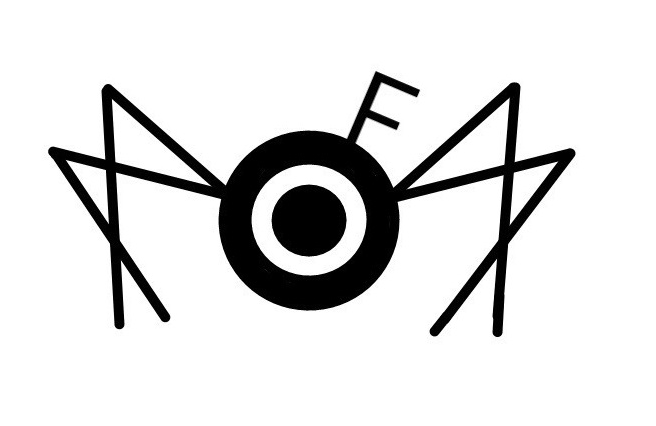 MUSHIKAGO-femto
This is an OSS version of MUSHIKAGO, available to everyone from GitHub (software only). Updates and maintenance are available as needed.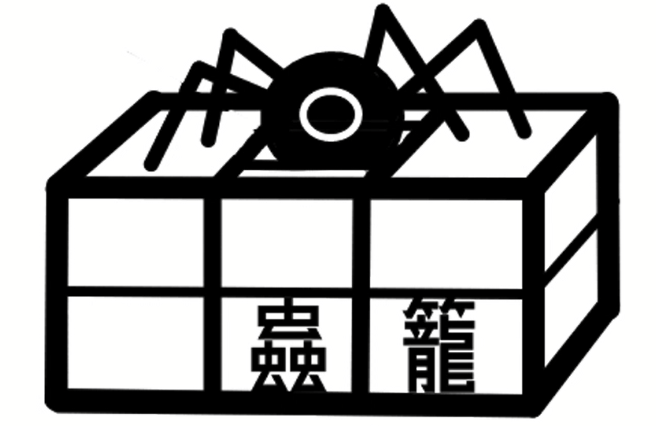 MUSHIKAGO Standard
This is the commercial version of MUSHIKAGO, with additional advanced security validation and GUI features. A free trial version is available (2-week rental), please contact us via the inquiry form.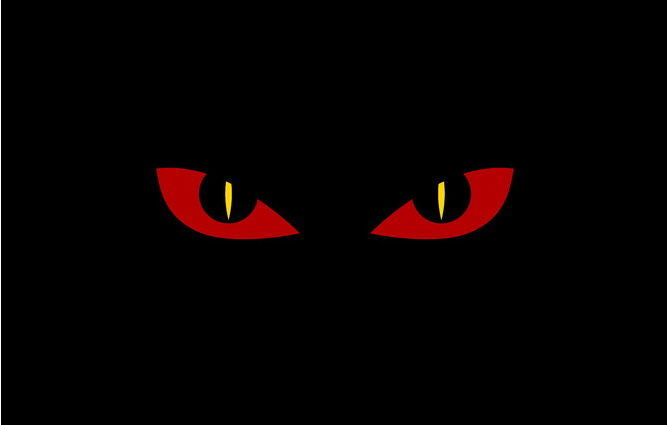 MUSHIKAGO High-end
The MUSHIKAGO incorporates the latest research being conducted by PKT and offers enhanced machine performance. We will announce the release of MUSHIKAGO in the latest PKT news, etc. when it is decided.
各シリーズの検証内容
| | | | |
| --- | --- | --- | --- |
| Contents | MUSHIKAGO-femto | MUSHIKAGO Standard | MUSHIKAGO High-end |
| Device/Asset Identification | 〇 | 〇 | ◎ |
| Network searching | △ (Limited) | 〇 | ◎ |
| Collection of authentication information | 〇 | 〇 | ◎ |
| Collection of process information | 〇 | 〇 | ◎ |
| Collection of OS patches information | 〇 | 〇 | ◎ |
| Collection of vulnerabilities information | 〇 | 〇 | ◎ |
| Protocol identification | △ (Limited) | 〇 | ◎ |
| Lateral Movement | △ (Limited) | 〇 | ◎ |
| ICS support | △ (Limited) | 〇 | ◎ |
| Web UI | × | 〇 | ◎ |
| Verification mode switching | × | 〇 | ◎ |
| lighting | × | 〇 | ◎ |
| Moving | × | × | ◎ |
| Flying | × | × | ◎ |
| and more | × | 〇 | ◎ |
Usage Forms and Pricing
MUSHIKAGO is available as a short term (2 weeks) subscription or as a purchase-as-you-go product. For more information on MUSHIKAGO pricing, product support, etc., please contact us via the Contact page. If you would like to use MUSHIKAGO for security assessment or penetration testing of systems outside of your organization, please feel free to contact us for more information.
To learn more about MUSHIKAGO, click here.